See how Grancare is different.
Grancare Nursing Center
Grancare Nursing Center is the ONLY private, family-owned nursing center in Brown County. As an Eden Alternative certified facility, we provide individualized care that focuses on treating our neighbors with dignity, respect, and independence. Encouraging our Elders to decide how they spend their time at Grancare means they each continue to experience a life full of meaning and purpose.
Grancare Nursing Center is licensed as a skilled nursing facility by the State of Wisconsin.  The facility accepts Medicare, Medicaid, private insurance, and private funds.
Our staff is comprised of Registered Nurses, Licensed Practical Nurses, and Certified Nursing Assistants. They provide medical and personal care twenty-four hours a day.  A Certified Wound Nurse compliments the staff.  An End-of-Life program specializes in hospice care.  A Restorative Nursing Program strives to keep our neighbors functioning at their highest level. In addition, our dietary, housekeeping and recreation care partners all work together to enrich the lives of our neighbors.
Some of the Many Ways We Help Our Elders
Social and recreational activity is provided daily and is geared to have meaning, purpose, and fun.
Community churches and organizations bring religious and spiritual services to our home.
A Registered Dietitian provides leadership for the dining services.
Laundry and housekeeping services maintain a clean, sanitary environment and assure linens and personal clothing are laundered and returned to the neighbor.  Qualified personnel keeps all mechanical systems in the home operational.
A qualified Social Worker is available to provide for the psycho-social needs of our neighbors.
Physical, Occupational, and Speech Therapy are provided by licensed and qualified therapists in a specialized therapy gym.
Grancare Gardens Assisted Living
Grancare Gardens Assisted living provides personal care, support services such as meals, housekeeping, laundry, bathing, dressing and medication management. This 16 unit facility is licensed by the State of Wisconsin as a Community Based Residential Facility (CBRF). Apartments vary in size; some can accommodate a couple. Each apartment features a kitchenette and a full bath. All accommodations are accessible on the ground floor. A beauty/barber shop is a short walk from each apartment. There are several areas to visit with other neighbors, family, and friends. Certified and trained Care Partners are on duty 24 hours a day. A LPN is on duty Monday-Friday. A licensed RN or LPN is on call at all times. Social and recreational activities are provided along with spiritual services.
Two garden areas are available to sit and enjoy the beauty of nature. 
Grancare Gardens is located adjacent to Grancare Nursing Center. It is owned and operated by the Zunker family. The core concept of our philosophy is to see aging as a continuous stage of growth and development in life, not as a decline. The places we create for our elders to live should foster that growth for neighbors and care partners alike. We know that companionship, meaningful care, variety, and spontaneity make for an enlivened environment. Grancare believes in treatment of the mind, body, and soul.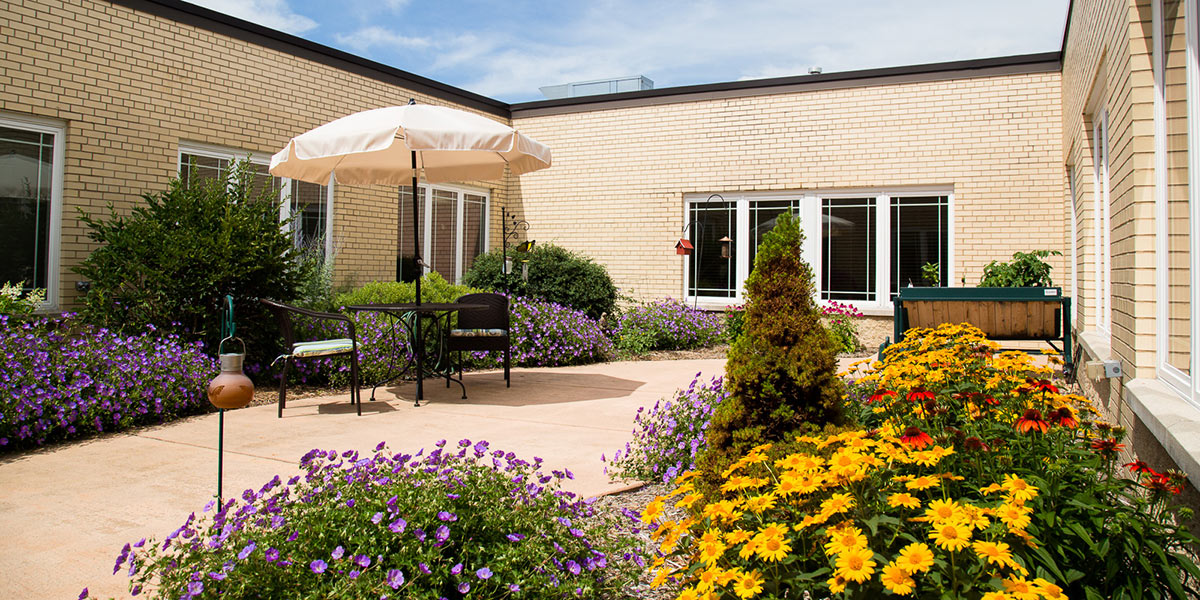 Short-Term Rehabilitation
In February of 2012, an addition to the nursing home was opened.  It was built in a household-style design to serve our short-term rehabilitation neighbors. This neighborhood is called Turn Around Circle and is Home for 16 neighbors. Equipped with its own kitchen and laundry, this household-style community applies our Eden Alternative philosophy to short-term physical rehabilitation.
Grancare offers Medicare certified rehabilitation for when someone isn't quite ready to return home. Our rehabilitation staff helps each person meet their individual goals so they can return home as soon as possible. We provide physical, occupational, and speech therapy services in a specialized therapy gym. Our social worker, in coordination with the care team, will assist with discharge planning and arrangements.
Our rehabilitation community brings the same Eden Alternative philosophy to short-term care, providing a positive, purposeful, and healing space for neighbors in need of rehabilitation.